Looking to boost online Fios signups, Verizon tests new promotional pricing all the time. And they almost always run a special offer for bundled Fios Triple Play.
Right now new customers looking to save BIG pay just $79.99 per month for Verizon Fios Triple Play with Gigabit speeds. No annual contract is required. But if you select a 2-year agreement with auto-pay, you also get a free Samsung Chromebook 3 or $200 credit toward other Samsung tech. Best of all setup fee is waived for all online orders!
Our Pick – The Best Verizon Fios Triple Play Deal
| Fios PLAN | Triple Play Offer – New Customers | Fios TV | Fios Internet speed | Promo Price (per month) | Availability |
| --- | --- | --- | --- | --- | --- |
| Fios Triple Play | 100% Fiber optic "Gigabit" speeds. Standard setup fee waiver ($99.99 value). | 190+ digital channels. | 940 / 880 Mbps | $79.99 | CHECK |
Check Verizon Fios Availability   
The deal in the chart above includes free Setup and a 2 year discounted price guarantee. Your first two years of service is guaranteed to be locked in for the special promo price. Simply select No annual contract for standard month-to-month service. Be aware that if you do not choose the term agreement, Verizon may raise your rate after 12 months.
The best thing about this deal, without question, is the Gigabit connection. Gigabit is easily the fastest speed Verizon has ever offered in a promo deal. This is a strong offer from Verizon, and it cannot be denied right now is the best time ever to sign up for bundled Fios Triple Play.
Fios Online Deals
This promo bundle deal is a available for a limited time only. You may be asked to pay a higher rate if you order Fios by phone. Strange but true. That's because Verizon releases these deals occasionally to boost online signup numbers, and to test out how effectively they can add customers at different price points and with different bonus rewards.
What are these bonus rewards, you ask? When you sign up for an online deal, Verizon will often throw in more rewards to make their offer extra enticing. This month: Verizon will waive the setup fee! Setup is normally a $99.99 charge.
If you are looking to take advantage of even more bonus rewards, then consider the 2-year agreement.
Customers who sign up for this Triple Play and choose the 2-year agreement with auto-pay get two bonus rewards… Free Setup ($99.99 value), plus get a free Samsung Chromebook 3 or $200 credit toward other Samsung tech.
TriplePlayBundle.com is partnered with Verizon Fios to get unique promotional links that can literally save hundreds of dollars on your broadband bill. But like all good deals, this month's specials are time sensitive and will soon expire. Do not hesitate miss out on all these freebies from Verizon.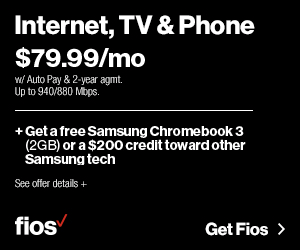 New Fios Promotional Offers in April 2018
Looking for even more savings? Check out the following special limited time offers:
Fios plus Verizon Wireless Unlimited- If you sign up for a Fios Gigabit Triple Play and you already have Verizon Wireless Unlimited, you can get an exclusive $10 off both your Verizon Wireless and Fios services – for a savings of $20 a month every month you have both services! Act quickly because this offer will be valid for a limited time only.
Fios plus Xbox Live Gold-  If you sign up Fios Gigabit Connection for $79.99 per month, you can get a free 1 year subscription of Xbox Live gold. Plus get a free game! Choose Sea of Thieves or PUBG.
Verizon Competitive Pricing
You are not alone if you have watched your internet bill continue to climb every month.  We are all being driven to search for more cost-effective home service options. Look at this chart from the BLS if you do not believe me. The price of TVs, computers, phones, and cameras has gone down every year, but the average price of home broadband service has never been higher.
Verizon Fios has better terms and more attractive deals for new customers looking to make the switch from one of the other big cable companies. Sign up now for new service or upgrade from a slow DSL line because this month's new Fios deal is too good to pass up!
Watch Video: Verizon Fios plus a Free Samsung Chromebook 3

Fios Fiber Optics
Ever notice how most internet connections slow down at certain times? Especially when your neighbors are using the same internet provider during the same peak hours. Fortunately, this is not the case with Fios.
The bigger cable companies offer temporary "burst speeds" (which Comcast calls "Powerboost"). But Fios always has the capacity to provide a steady, blazing fast internet speed with superior quality HD picture. Fios is based on a 100% fiber-optic network wired directly into your home.
Cable companies sometimes use fiber optic technology. But then they have to split up the bandwidth between you and your neighbors, and then run a regular cable line connected to your home. I have tried both and the quality is not the same!

Fios Quantum Speeds
Verizon Fios offers consumers the fastest and most advanced reliable fiber technology available for home internet service. Plus, the new Fios bundles for 2018 mean that amazing speed and quality are your best low cost option when you bundle your TV, Internet & Phone service. It's a win win win! But only if you live in an area where Fios has been rolled out…
Fios Triple Play Availability
There are a lot of internet service providers out there. Verizon Fios is only available in select areas of the country. And ever since the Frontier merger, that area is now confined to The East Coast. If you live in an area that is Fios ready, don't hesitate to sign up for new service today.
Fios internet speeds are faster than ever. And speaking from personal experience Verizon Fios is easily one of the best overall ISPs in the US. Believe me, I've tried a lot of broadband providers over the years.
To find out if Verizon Fios is available where you live, click the link below and enter your service address. Sign up and save BIG on bundled TV + Internet + Phone!