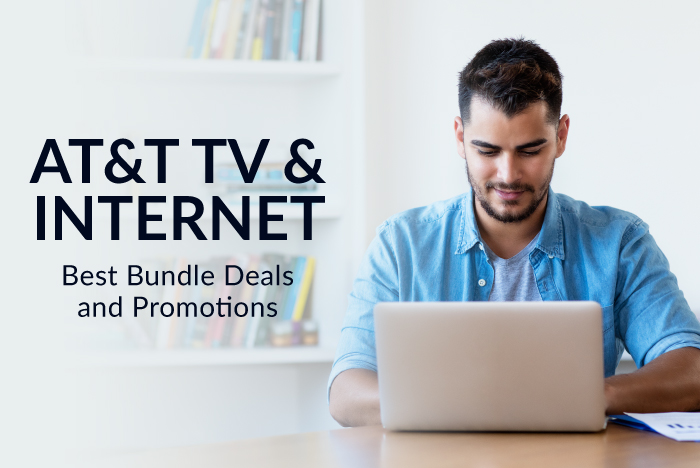 If you have followed the latest news in the world of home broadband, you already know that AT&T High Speed Internet is now partnered with DIRECTV. That means you can now save BIG every month by signing up for bundled TV + Internet.
It's called the DIRECTV + AT&T Internet Bundle. New customers who sign up this month can enjoy exclusive low pricing by using the link in the chart below. Combine low pricing with discounts offered for a 2-year subscription and you will easily save 40% (or more) each month on your bill.
If you choose to sign up for this highly-rated home broadband package… make sure to take advantage the current promotional deal! Why pay full price? Get both essential services on one monthly bill, at one low discounted rate… Plus get access to all the best premium channels, for three months, at no extra cost.
AT&T DIRECTV Bundle Deal – July 2019
New Customers / Online Orders Only
| Check | AT&T DIRECTV Bundle | TV | Internet speed |  Promo Price (12 months) |
| --- | --- | --- | --- | --- |
| DIRECTV + AT&T Internet | TV and Internet. Free Setup. Free Premium Channels for 3 months. Free Genie HD DVR in up to 4 rooms. $100 Visa reward card. | 150+ channels | 50 Mbps | $75.00 |
In the chart above I break down the terms of the best deal for new customers that AT&T is running right now. Click the Check Availability button to visit the promo sign up page, then enter your address find out if your house or apartment is zoned for service.
Deals generally change every two-to-four weeks. Sign up now before this one expires. New online signups do not require a long term contract!
What's The Best Way To Sign Up?
You can sign up for new service either by phone or online. We recommended online signup because of all the bonus rewards currently available to new customers.
During the ongoing promotion, new customers who sign up online will get a $100 prepaid VISA reward card, plus free activation (normal $19.95).
Here's another bonus: Over 50 premium channels, FREE for 3 months. After 3 months you may let the bonus channels expire at no cost. Or keep them for an additional monthly fee. Includes favorites like HBO, Showtime, Cinemax, STARZ, and much more.
AT&T refers to this month's bundle as an All Included plan. Basically that means the extra fees that used to show up on your bill are now all included in your flat monthly rate. Setup, DVR, and Equipment are no longer separate fees. No more surprise charges. It appears AT&T listened to criticisms and simplified their pricing structure. For comparison, in the past setup used to be an extra $35 fee on your bill.
You are eligible for service if you live in an area that is covered by AT&T TV and Internet.  If you do, you can sign up right now for the AT&T DIRECTV Double Play bundle – TV and Internet – for as little as $75/mo. Free professional installation gets you set up right away. No hassle.
Can I Sign Up For An "Internet Only" Plan?
Yes! Cord-cutters rejoice, there is a brand-new "Internet Only" plan available for July 2019.
Get AT&T Internet, with 99% reliability, for only $50/month. Taxes do apply, and a 12 month agreement is required. Includes 1 TB data per month without having to pay any overage fees. However if you need unlimited data allowances, that option is available for an additional $30/month.
As a special reward, customers who sign up for this deal online will be getting free activation. That's normally an extra fee of $19.95.
Unlike the bundle deal highlighted above, this plan does not include TV service. However you can use your broadband internet to stream Netflix, Hulu, Amazon Prime, etc.
This special offer is currently available Online Only.
Watch Video: Nighthawk® LTE Mobile Hotspot Router | AT&T

Fiber Optic Technology
AT&T Internet is better and faster than DSL. Period. That's because the signal is carried by fiber optics. Then it is split from the neighborhood hub and run via coax cable to your house… As opposed to the old copper lines and cannot carry as fast a signal for TV and internet.
DIRECTV also offers a variety of Latino channel packages. See the order page for a detailed list of channels. TV activation fee is waived this month. Some fees may apply. See the official AT&T site for terms.
Another fan-favorite feature from DIRECTV is the Genie HD DVR system. As you might expect, Genie DVR lets you record your favorite shows and watch them later. But you might not know that Genie lets you record up to 5(!) shows at the same time, and stores up to 200 hours of HD content at one time. That is an impressive piece of hardware.
Pricing and terms may vary based on location. Often it depends on which region of the country you are in. You have to put in your exact address to check AT&T availability in your area. We tested these deals based on a home address in Southern California.
The promotional pricing featured on this page is time sensitive. Like all good deals, these ones will expire soon.
AT&T DIRECTV Availability
Almost anyone can get DIRECTV, and at this time there are 21 states that are wired for AT&T fiber internet. That level of availability easily ranks among the best in the US.
To find out if you can take advantage of these great bundle deals… Click the button below to visit the promo sign up page. There you will enter your service address and find out if you're eligible.
Year after year AT&T is consistently rated among the best broadband service providers in America. Sign up with the confidence that you are getting reliable home broadband service at the lowest possible price today.